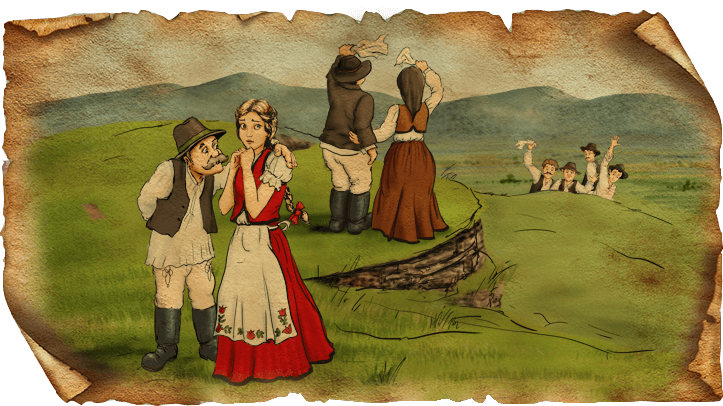 Southwards of Maroskeresztúr, a mountain rises between the Maros / Mures and the Nyárád / Niraj River, one of which is called Farewell Bench. According to some opinions, it got the name from the fact that he had long been a pilgrimage place even before the Reformation. Another tradition, however, says that the place has a sadder history: at this place the Szekler men going to battle said good-bye to their beloved, dear ones, whom they left at home. Balázs Orbán writes that the farewell was a touching, solemn moment: the parents blessed the weapons of the warriors while they were told, "Fight with it to get honour for your homeland and for me." Families escorted them to this place, and many soldiers were seen here at the Farewell Bench for the last time.

The inhabitants of Maroskeresztúr lived over centuries many devastations and turbulent times. In 1600, Giorgio Basta general's soldiers killed not only the fleeing inhabitants, but also set fire to their temple-fortress. Later, Polish and Tartar troops broke into Transylvania and they devastated the village – for a long time Pusztakeresztúr (puszta = desert) was its name.In this settlement was born one of the greatest figures of 19th century Transylvanian Hungarian medicine, Vilmos Knöpfler, who was also a member of the Hungarian Parliament. His name is attached to the foundation of the hospital in Marosvásárhely / Târgu-Mureş. He built the Castle of Maroskeresztúr / Cristesti, which burned down later.

Cristesti has nowadays been completely built together with the nearby Marosvásárhely, its main attractions are the rebuilt churches during the centuries.Visitors to Cristesti today can visit the still-recognizable Farewell Bench, which is not the place of resignation, but the sign of the hope of the seeing again: the lovers of Szekler warriors who had gone to war always believed in the return of soldiers. It is not a coincidence that they said good-bye to them so: "Come back so I can be proud of you!" The Farewell Bench reminds people today of the Szeklers' courage, determination and Spartan simplicity. If we climb up this hill, think of the former Szekler mothers, fathers and fiancées, who looked at the horizon with hope over many years, waiting for the return of their loved ones.